Storage Field Day 12 Day 1 is in the books, and what an incredible day it was. Let's quick recap what
was covered:
We kicked off the day with Ryussi who gave us the goods on their proprietary SMB stack they call "MoSMB" – SMB with Mojo!
In a nutshell MoSMB is an ultra lightweight SMB 2.x and 3.x stack designed for with the future in mind – a future where NVMe, high CPU core counts, and high bandwidth/low latency connections rule the day. MoSMB was designed for highly scalable environments with an unique modular and pluggable architecture.
Ryussi MoSMB: An Advanced SMB 3 Stack with Sandeep Bhambani
Ryussi MoSMB Architecture with Sunu Engineer
Product Features
File & Print
SMB3 File Server
SMB3 Printing
Named Pipes
High Performance
Receive Side Scaling
ODX Support
Multichannel
SMB Direct
Directory Leasing and Caching
Security & Authentication
Encryption Signing
SAD Integration (LDAP/Kerberos)
Reliability
Cluster Support
RPC
Witness Protocol
Persistent/Durable Handles
Client Support
Hyper V – Live Migration
SQL Server
Management
SMI-S
Remote VSS
Powershell
StarWind
Our second presentation was with StarWind. Many of you know StarWind as the company who makes iSCSI target software, but think again, they have quite a robust HCI and stand-alone storage play as well.
Check out their timeline: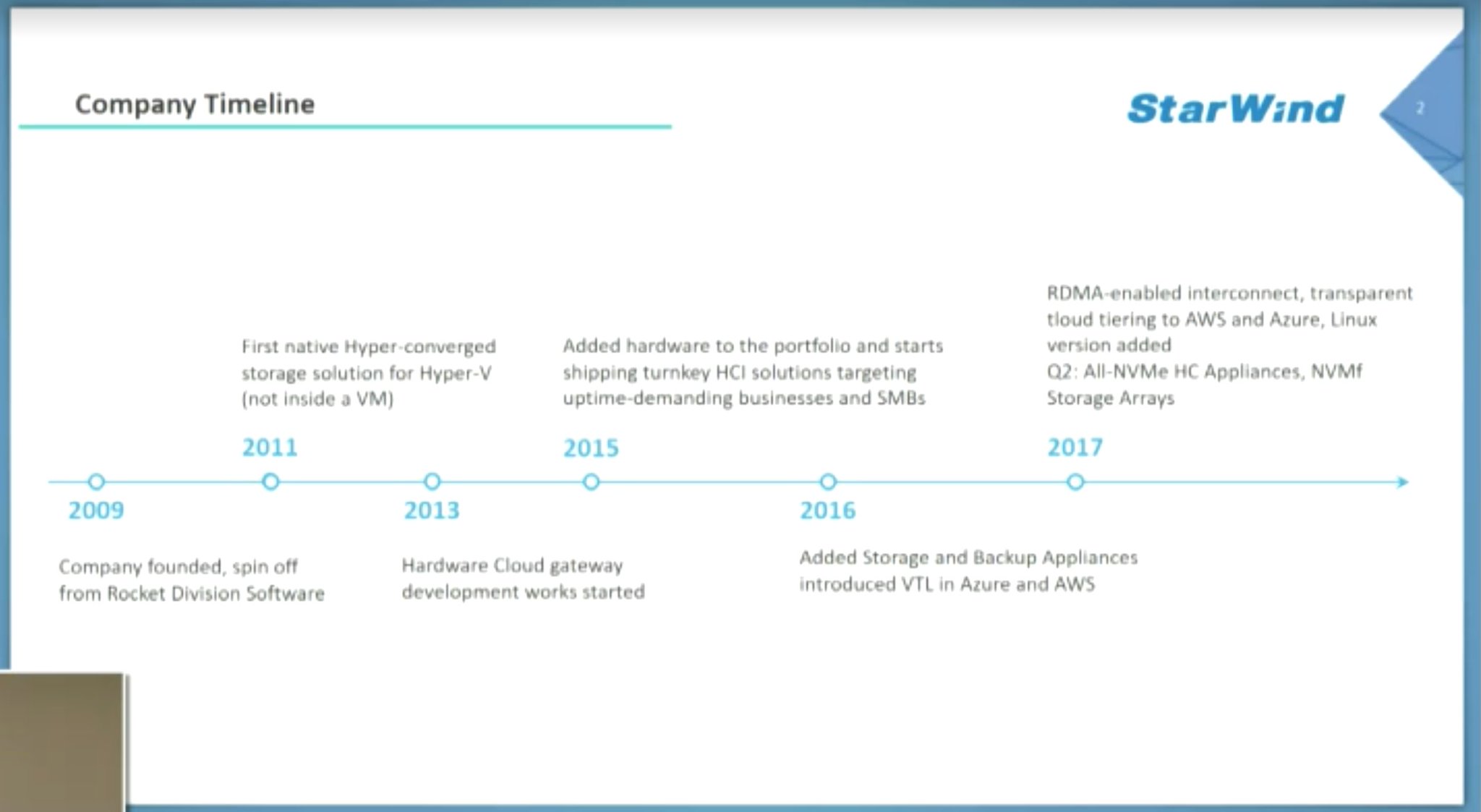 What was really interesting to me was their "Cloud Gateway" hard drive. Check this out:
StarWind Simple, Flexible, Scalable Storage with Max Kolomyeytsev and Anton Kolomyeytsev
StarWind Fault-Tolerant Storage Demo with Max Kolomyeytsev
StarWind Scale Out and Log Structured File System with Anton Kolomyeytsev
StarWind and AcloudA: Stairway to Cloud with Anton Kolomyeytsev
StarWind and Veeam VTL and Cloud Replication Demo with Max Kolomyeytsev
ElastiFile
Next we met with ElastiFile – A company building a software defined file system that can work on local hardware or in the cloud. Very interesting tech and these guys really knew their stuff.
Elastifile Company, Product, and Design Overview with Shahar Frank
Elastifile Hyperconverged Scaling in the Cloud Demo with Shahar Frank
Elastifile Architecture – Overview, Data Path with Ezra Hoch
Elastifile Architecture – Metadata with Ezra Hoch
Elastifile Architecture: Clustering with Ezra Hoch
Elastifile Node Failure Handling Demo and Discussion with Shahar Frank
Excelero
Lastly and probably the highlight of the day was meeting with Excelero – Who used our session to announce coming out of stealth.
Excelero is making some really fascinating NMVe Mesh software technologies. The goal of their software is to create software that can connect commodity servers with NVMe devices into one large pool of storage with no loss of disk spec IOPs and throughput whether the data is accessed locally or remotely – and from the demo was saw they have succeeded spectacularly.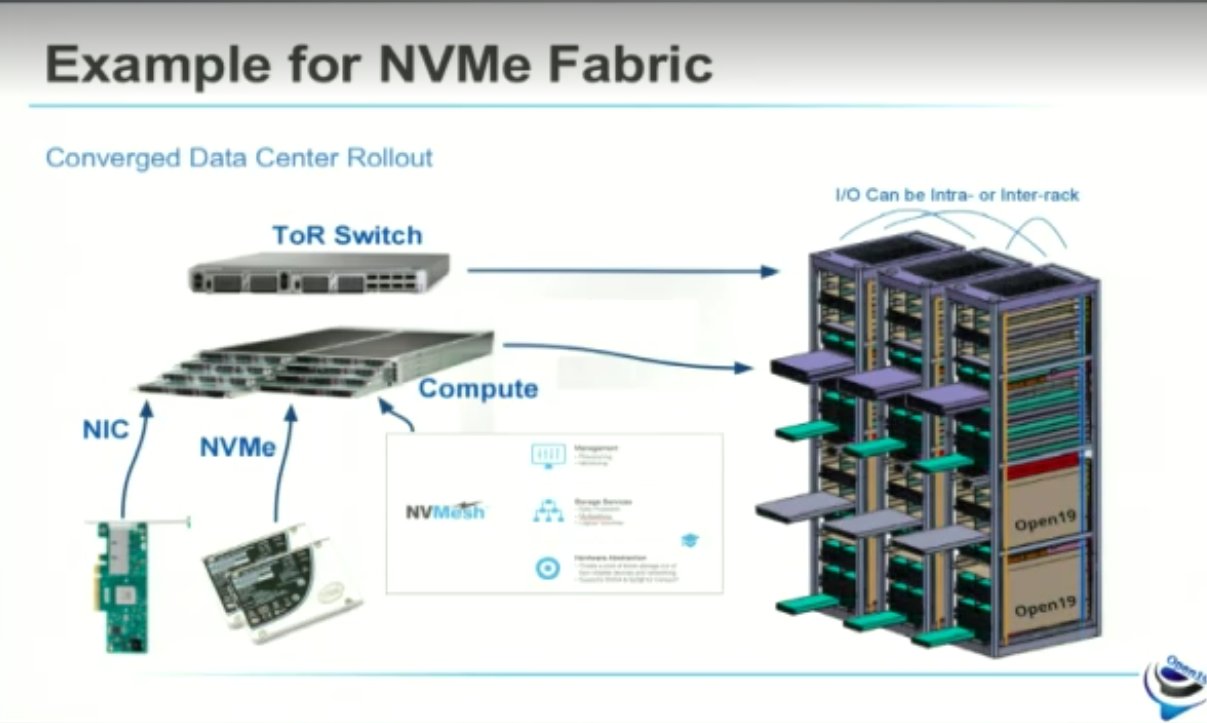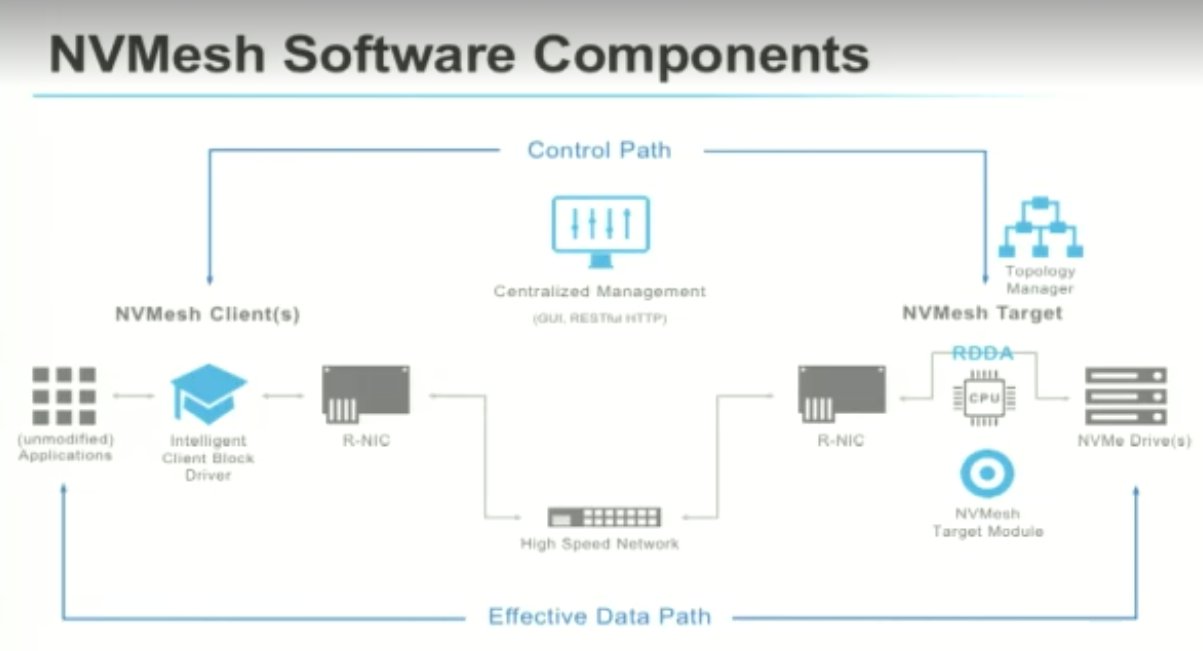 With this demo hardware, Excelero showed us 4 MILLION+ IOPs at 0.2ms latency. Whoa!
I guess this is why DSSD got dumped.
Excelero NVMesh Server SAN Vision with Yaniv Romem
Excelero Use Cases with Josh Goldenhar
Excelero NVMesh Architecture and Software Components with Yaniv Romem
Excelero Demo with Josh Goldenhar
Day 2 is even more impressive. We start the day at Nimble Storage, then head to NetApp, and finish with Datera. Check out all the live streams at http://techfieldday.com